Updated November 28, 2023
A durable power of attorney (DPOA) form allows an individual (principal) to select someone else (agent) to handle their financial affairs while they are alive. The term "durable" refers to the form remaining valid even if the principal becomes incapacitated (e.g., Dementia, Alzheimer's disease, etc.).
By State
What is a Durable Power of Attorney (DPOA)?
A durable power of attorney (DPOA) is the designation of allowing an agent to handle financial responsibility even if the principal becomes incapacitated. The financial responsibilities may be broad or limited.
A durable power of attorney (DPOA) has the option of allowing an agent to act immediately or at a future time or event (such as when the principal becomes incapacitated.
Video
Uniform Power of Attorney Act (UPOAA)
The Uniform Power of Attorney Act (UPOAA) were created by the National Conference of Commissioners on Uniform State Laws (ULC) and have been adopted by 28 States since 2007. The incorporation of the laws is to bring uniformity to all 50 States and set common guidelines.
Definition of "Durable"
From Section 102(2) (page 7):
"Power of attorney" means a writing or other record that grants authority to an agent to act in the place of the principal, whether or not the term power of attorney is used.
Statutory Form
The statutory form as written in Section 301 (page 66):
Download: PDF, MS Word, OpenDocument
Signing on Behalf of the Principal
The agent is required to sign for the principal in the following format (Section 301 – Page 70):
(Principal's Name) by (Your Signature) as Agent
Sample Signature

Agent's Certification
An agent certification is an optional form that lets an agent acknowledged their designation by the principal. The agent must sign in the presence of a notary public (Section 302 – Page 74):
Download: PDF, MS Word, OpenDocument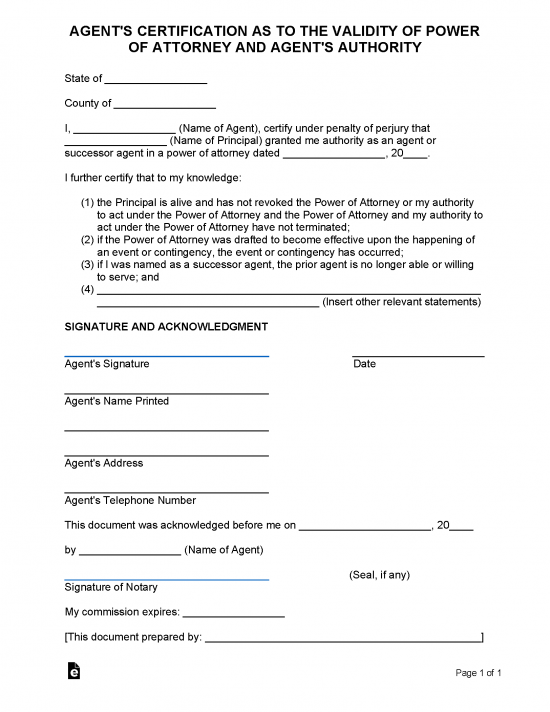 Agent's Duties
In accordance with Section 114 (page 23), the agent must act:
To principal's expectations while performing in their best interest;
In good faith;
Only with the scope of authority within the power of attorney.
To act without a conflict of interest to be able to make decisions on behalf of the principal's best interest;
To keep records of all receipts, disbursements, and transactions made on behalf of the principal;
To cooperate with any agent that has the power to make health care decisions for the principal; and;
In preserving the principal's estate plan to the extent known by the agent, such as:

Maintaining the value of the principal's property;
Upkeeping with the principal's obligations for maintenance;
Minimizing their tax liability including income, estate, inheritance, generation-skipping transfer, and gift taxes; and
Eligibility for any benefits under a statute or regulation.
Financial Powers
The principal may grant the following standard financial powers to the agent in accordance with Section 301 (page 68):
Real property – The buying, selling, and leasing of real estate;
Tangible Personal Property – The selling or leasing of personal items;
Stocks and Bonds – Selling shares of stock or bonds;
Commodities and Options – Making transfers of financial items or derivatives;
Banks and Other Financial Institutions – To have complete control over bank accounts, personal or business;
Operation of Entity or Business – To make any kind of decision for a business or entity;
Insurance and Annuities – The option to cancel, upgrade, or redeem insurance or an annuity;
Estates, Trusts, or Other Beneficial Interests – To control the language of an estate, trust, or other entity that transfers to the principal's beneficiaries after death;
Claims and Litigation – To decide on any current claims or outstanding litigation matters;
Personal and Family Maintenance – Deciding and budgeting the amount of money to pay for the principal and any family members being supported;
Benefits from Governmental Programs or Civil or Military Service – To make claims for any government benefit or subsidy;
Retirement Plans – To amend any retirement plan.;
Taxes – To file or amend taxes.
Agent's Liability
If the agent is deemed to be in violation of their duties to the principal, they must be subject to the penalties in accordance with Section 117 (page 30) of:
Restoring the value of the principal's property to the extent of what it would have been if the violation had not occurred; and
Reimburse the principal or their successors in interest for the attorney's fees and other costs related to obtaining a judgment against the agent.
Revocation
The agent's duties can be terminated in any of the following ways (Section 301 (page 71):
Death of the principal;
A revocation form authorized by the principal;
The occurrence of a termination event;
The purpose of the power of to be accomplished or completed;
If married and the spouse is the agent, and a court action is filed to end the marriage unless specific language exists in the power of attorney allowing such legal action without terminating the document.
UPOAA States
The following 28 States have adopted the Uniform Power of Attorney Act:
How to Get DPOA (5 steps)
Getting a durable power of attorney will require the principal to find someone that they can trust to handle their assets if they should not be able to handle it themselves. This means that the person(s) selected should be trustworthy fully capable to make decisions and handle the affairs of the principal.
What You Will Need
Agent – Someone that is trustworthy to make informed decisions about the principal's finances.

Successor Agent (optional) – Elect to have in case the agent is not available.

Durable POA Form (3  copies) – It is recommended to bring 3 copies for signing.
Notary Public / Witnesses – Depending on the state, it is required the form is signed by a notary public or witness(es) present.
Signing Requirements
In order for a durable power of attorney to be legal, the signature of the Principal must be completed with the following in accordance with state law.
General POA vs Durable POA
A general POA is only valid while the principal is competent and becomes void upon the principal's incapacitation (or death like all POAs).
A durable POA remains valid if the principal should become incapacitated which includes any of the follwing conditions:
Alzheimer's Disease;
Dementia;
Coma;
Stroke; or
Any mental disability
Medical POA vs Durable POA
A medical POA allows an agent to make health care decisions versus durable POA which is restricted to only financial decisions.
State (statutory) Laws
How to Write
Doewnload: PDF, MS Word, OpenDocument
(1) Document Date.
(2) Name Of Principal. The Private Party who intends to grant his or her authority over one or more matters to an Agent of his or her choosing is the Principal behind the concerned power appointment. You as the Principal must attach your full name to this role in the opening statement of this form.
(3) Principal Location. To further define your identity, dispense your county or residence along with the state where your residential address is located.
(4) Attorney-in-Fact. Identify the Party that will use the principal power this paperwork conveys so that he or she can act in your name. This Party is generally referred to as the Attorney-in-Fact or Agent.
(5) Residence Of Agent. The county and state where the Attorney-in-Fact resides is required to properly identify the Attorney-in-Fact.
Effective Date
(6) Setting the Effect. Two options defining when and how the powers the Principal grants become available to the Attorney-in-Fact. By placing your initials next to Statement A or Statement B, you will be able to indicate whether this document should convey your principal authority to the Attorney-in-Fact as soon as you sign it or if it only grants your principal authority if (or when) you are formally diagnosed by a Physician as being incapacitated (i.e. mentally, physically) and unable to handle your responsibilities.
Power Of Attorney
(7) Banking. In addition to setting when the authority is accessible to your Agent, you must define what type of decisions or actions he or she may take with your name. A comprehensive list of principal matters should be reviewed where your initials will approve of the Agent's ability to handle your affairs or your lack of initials will indicate that such power should not be available to the Agent. For instance, in the first power topic, your initials will approve of the Attorney-in-Fact's use of your name and principal authority to open/close principal accounts, contribute to your accounts, and withdraw funds from your accounts with banks and similar financial institutions. If you do not wish the Attorney-in-Fact to use your name with your banking matters then do not initial the first power description.
(8) Safe Deposit Box. Your authority to access safe deposit boxes as well as manage their contents can be granted to the Attorney-in-Fact by initialing the second description. Keep in mind, this also grants your Agent the ability to remove or contribute  items or funds to safe deposit boxes in your name.
(9) Lending Or Borrowing. Initial the third topic of authority if you wish the Attorney-in-Fact to be able to take out loans in your name, effect loan payments, negotiate terms, make loans, seek owed payments, and a host of other actions when discussing debts owed by and to the Principal (you). Leave this item unmarked if you do not intend for your Agent to have this type of power.
(10) Government Benefits. The Attorney-in-Fact can be given the ability to act for you when applying for government benefits such as Medicare. Additionally, he or she can be granted the power to maintain these benefits in your name, receive them, and issue decisions on your behalf by initialing this description with your approval.
(11) Retirement Plan. If you expect the Attorney-in-Fact to wield principal power with your retirement plans or IRA, then your initials must be provided.
(12) Taxes. You may include the ability to handle and complete tax forms, and perform other administrative tasks with your taxes then your initialed approval is required. Be advised that while this approval will give your Agent certain powers with Tax Entities such as the I.R.S., Tax Attorneys, and Departments of Revenue, additional paperwork and requirements originating from these Entities may need to be completed  independently or in cooperation with this form.
(13) Insurance. The next power description will accept your initials to allow your Attorney-in-Fact to carry out decisions over your insurance policies. If you do not produce your initials next to this power description then your Attorney-in-Fact's principal authority will not be recognized in this matter by Insurance Entities such because it would not carry your approval.
(14) Real Estate. Your decisions regarding real property (or real estate) transactions, prospects, interests, conveyances, encumbrances, liens, etc. can be handled by the Attorney-in-Fact with the same authority you hold upon your initials of approval.
(15) Personal Property. Your tangible and intangible personal property (i.e. your automobile or furniture) can be managed, leased, sold, rented, and otherwise decided and acted upon by the Attorney-in-Fact if desired. To grant such principal power initial the ninth power description.
(16) Power To Manage Property. If you wish the Attorney-in-Fact to manage property on your behalf, then the principal authority needed to engage decisions concerning acts such as property repairs or credit arrangements may need to be granted. To deliver the principal power to manage your property to the Attorney-in-Fact, you must initial the tenth statement of this list.
(17) Gifts. If you wish to grant the Attorney-in-Fact the power to arrange for, honor, accept, or deny gifts with actions ranging from making charitable pledges with principal authority to forgiving a debt owed to you then the second to last description of authority must bear your initials of approval. If left blank, your Attorney-in-Fact will be unable to carry out any such actions or make these kind of decisions with your name.
(18) Legal Advice And Proceedings. Your Attorney-in-Fact can be authorized to seek, pay for, accept, or deny legal advice on your behalf to engage legal proceedings in defense of this document and the principal powers it grants by initialing the final power description.
Special Instructions
(19) Your Directives. The power descriptions that you just reviewed may need to be tailored with limitations, restrictions, conditions, or instructions that you wish applied. Since the language in this document is set, a distinct area is provided where you can include directives, instructions, or provisions to this appointment. Only the directives in this document at the time of its execution will be considered applicable to the principal authority it delivers to your Agent. Therefore, if you require more room to fully represent your provisions then continue on an attachment that must be physically present when you sign this appointment.  
State Law 
(20) Responsible Jurisdiction. The State whose laws will be applied to the interpretation and enforcement of this document must be documented.
Witnessed Signature 
(21) Your Signature Date. Record the current date immediately before singing this document.
(22) Your Signature. After making sure that all attachments are present and accounted for, sign your name, then give this document to the Witnesses observing this execution.
(23) Witness Confirmation. The Witnesses viewing your act of signing should review the Witness statement on display. Upon agreement, each Witness must sign his or her name and produce a record of his or her residential address.
(24) Notarization. The Notary Public accompanying the Witnesses in viewing  your act of signing will take control of this paperwork, then authenticate your signature with the process of notarization.
Specimen Signature And Acceptance Of Appointment
(25) Attorney-in-Fact Declaration. The Agent who will be granted the principal powers you approved according to the conditions you set will have an acceptance statement to tend to. The printed name of the Attorney-in-Fact must be included in this statement.
(26) Attorney-in-Fact Signing. Your Agent must sign his or her name to agree to the acceptance statement provided.
(27) Specimen Signature Notarization.